Get a jump start on your health in the New Year!
The Ketogenic Diet: Simplified
Presented by Sharon Ledbetter, Certified Health Coach & Regional Educator for Ancient Nutrition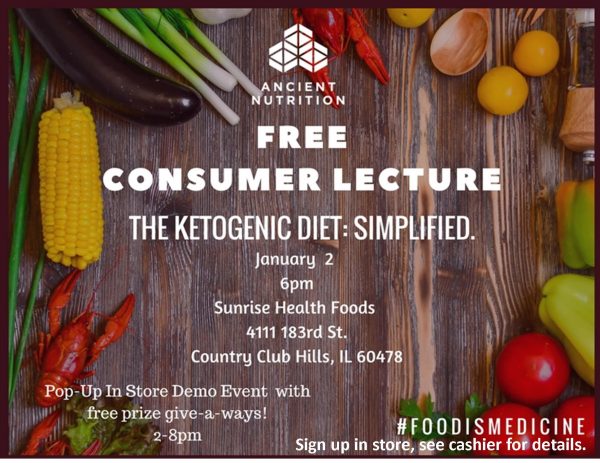 Learn how to optimize…
~ Brain Health & Sharpen Mental Focus
~ Drastically Increase Energy
~ Increase Metabolism & Fat Loss
…with proven solutions to improve your health for the New year!
January 2 only in Country Club Hills
ALL DAY:  SUPER TUESDAY SAVINGS!
Save a minimum of 20% on Supplements or Bodycare (see store for details).
2PM – 8PM: POP UP PRODUCT DEMO BY ANCIENT NUTRITION
Free samples of the newest products available plus free prize give-a-ways!
6PM: FREE CONSUMER LECTURE
The Ketogenic Diet: Simplified
& in Flossmoor, Lansing & Valparaiso
ALL DAY: FLASH SALE ON SUPPLEMENTS*
Buy any 2 Supplements SAVE 20%
Buy 3 or more & SAVE 30%!
*Applies to items priced $5 or more. Does not include Sunrise Naturals priced 30$ off everyday.