Sunrise Health Food's presents to you a valuable part of our team: Brian Dobieki!
For over 24 years, Brian has been serving, helping, and inspiring our customers in our Lansing, IL location. Our founding "Mom", Lill Chapman, hired and believed in Brian, and invested in him by sending him to a multitude of trainings and seminars in Natural Health. Brian came to us with background and experience that includes pharmaceutical trainings and practice. He has a deep investment and education in organic chemistries, and a large connection with local medical resources due to his wealth of understanding through years in the pharmaceutical field. With this background, and the additional pursuit of natural solutions in health, Brian inspires those he talks with to find their way to health through natural alternates to modern medications. He is able to recommend vitamins, mineral, herbs and other natural alternative without side-affects and has had years of return customers who have valued and benefited from his suggestions. If you can take the "science", he can explain it. If you need the "simplicity", he can help you too! He is keen on understanding the "whys" and the "hows" and enjoys talking with customers about his outlook. Currently, Brian works at the Lansing store part time. He enjoys connecting with all of you! So many of you have become his friends. He enjoys listening to your concerns and offer direction in becoming a "healthier you"! Ask for Brian Dobieki when you come visit Sunrise in Lansing next time and meet him for yourself!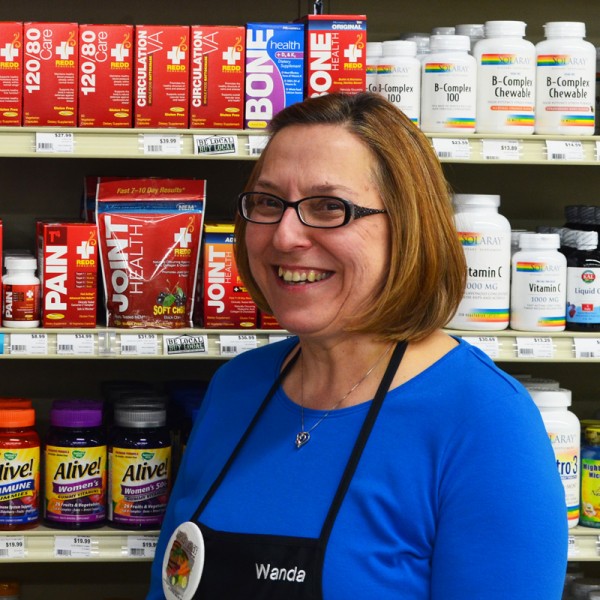 Have you had the pleasure of meeting Wanda Biernacki?
Wanda has faithfully and wholeheartedly served customers at our Flossmoor store for over 12 years! You may also recognize her from her time helping customers over 13 years ago at our Lansing store, where she was hired and worked initially as a cashier. She quickly transitioned from there, being part of a team designed to assist in the opening of our Flossmoor location, and that is where you will find her still. But now, her role has changed a great deal from her starting point of a cashier. Wanda has gained expertise in cashier management, grocery, supplements, an information center resource, and as a trustworthy source of help and knowledge for both customers and co-workers. This expertise has expanded through trainings, studies, research, literature and experience that is continually extended each day with constant reading, learning about new products, and healthy living.
When we asked what the most rewarding part of working at Sunrise was to her, her answer was readily decided, without hesitation: Helping people! Her thirst and quest for knowledge in healthy living, has driven her to share this passion with those who visit our stores. She feels blessed to work alongside of others who share the same desire to help others "feel better" and considers her workplace to be her little "family", where they help, encourage, and enjoy being together!
If you answered, "no" to the question, "Have you had the pleasure of meeting Wanda Biernacki?", then we recommend you stop and meet her for yourself. We know you will like her as much as we do.
In special recognition of Marian's 32 years at Sunrise Health Foods in honor of her retirement:
I sure hope you had the opportunity to meet Marian Krueger! Marian was a team member at Sunrise Health Foods for over 32 years. She was hired and worked alongside Lill Chapman, founder/owner and mother of current owner, Dan Chapman. Now, in her "retirement years", she has done anything but retire. She stayed busy working with Sunrise customers part-time all the way up to January 2, 2015 which was her last official day of work. Now she spends her time with her children and grandchildren, spreading her knowledge of healthy living and just being helpful wherever she can.
Marian studied and practiced nursing at the start of her career. As a married, mother of three, challenging life circumstances led her to seek out health solutions beyond answers that the medical world was giving to her. In an effort to seek a better option she began reading and attending conferences that focused on the power we have in our own hands to change our health story. She read Jethro Kloss' book, Back to Eden, which by the way is still a bestseller at Sunrise! Marian read as much as she could in an effort to battle some health issues that were challenging her children. This journey led her to a local Health Food Store in Chicago, and with a family move, later brought her to Sunrise Health Foods.
She has stayed 32 years at Sunrise Health Foods, and feels that the most rewarding part of her position was connecting with people, paying attention to what they had to say, and helping customers find a solution to whatever health struggle they were experiencing. She encouraged making healthy changes, and showed customers simple ways to improve the way they felt. She kept informed about new products, so that she could suggest products that she knew and believed in.
Marian has been a gem to our Sunrise team and we are thankful that her mission to help others brought her to us and kept her with us for so many years. Congratulations on your retirement to our dear Marian!