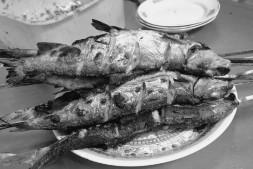 Healthy Insight:  Oily Fish for Healthy Heart
Many omega-3 studies test doses of more than 3,000 mg of EPA with DHA per day. In this study, 312 healthy men and women took 700 mg or 1,800 mg of EPA with DHA per day, or a placebo. After eight weeks, while there was no overall finding, and no change for placebo, those who began the study with high systolic blood pressure saw at least a 3.6 percent decrease in systolic blood pressure on either dose of omega-3.
Doctors said people could obtain this level of omega-3s from eating two to three servings of oily fish per week.
Reference: The Journal of Nutrition; 2016, Vol. 146, No. 3, 516-23
Ingedients:
2lbs of your favorite oily fish filet
8 to 12 cherry tomatoes
2 medium zucchini
1 medium yellow onion
1 c fresh basil
1/2 c olive oil
2 cloves garlic
Salt and paprika to taste
8 skewers
Directions:
Rinse and cut fish into 24 – 11/2" cubes. Cut zucchini into 11/2" pieces, and onion in half lengthwise, separating while keeping two to three layers together. Thread fish against the grain onto the skewers, alternating with tomatoes, zucchini, and onion. In a blender, puree basil, oil, and garlic until smooth. Season with salt and paprika, reserving half the mixture for later. Brush kabobs with half of oil mixture and season with condiments. Heat grill to high and grill until fish is opaque, 6 to 10 minutes, turning occasionally. With a clean brush, coat kabobs with remaining oil mixture and serve.