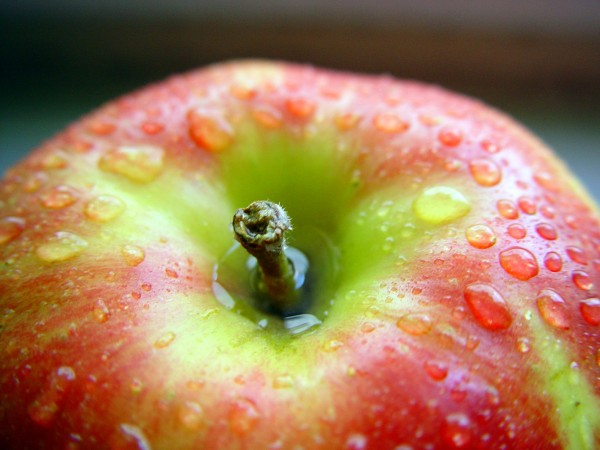 Apples can be used for many things during the fall, sliced with peanut butter as a snack or cooker with ginger in a cake, toffee or caramel apples for Halloween. A couple of new favorites may be these two recipes deom Vegetarian Times that combine other fall favorites like pomegranate and cranberries with our beloved autumn fruit.
The first is a salad that is simple to make yet is so delicious. Serves 4.
Autumn Apple Salad with Pomegranate
2 t olive oil
1 lg shallot, finely chopped (1/4 c)
1/4 c balsamic vinegar
2 T honey
1 head organic red leaf lettuce, chopped (about 12 c)
1 lg organic Fuji apple, thinly sliced
3 oz goat cheese, crumbled
1 c pomegranate seeds
salt & pepper to taste
The dressing: Heat oil in a small skillet over medium heat.  Add shallot and saute' until soft and clear or for approximately four minutes. Remove from heat and add vinegar and honey.  Taste and season with salt and freshly ground pepper.
Toss lettuce and apples.  Drizzle half the dressing and toss again. Divide salad among plates, top with goat cheese, pomegranate seeds, and remainder of the dressing.
Pair this salad with a nice slice  of hearty whole grain bread, a glass of pinot noir, and a baked potato and you'll have a healthy dinner that will satisfy the hungriest of dinner guests.
And if you are looking for something that will handle the sweet tooth without being too filling, try this easy-to-make cranberry applessauce. Makes 3 cups.
Cranberry Applesauce

2 c cranberries
6 sweet-tart(unpeeled) apples, such as Braeburn, Fuji, or McIntosh, cored and cut into chunks
2/3 c granulated sugar
1/2 c sweet cider
1/2 t ground cinnamon
1/4 t ground allspice
Combine all ingredients in a large saucepan, and bring to a simmer over medium heat.  Partially cover, and simmer 25 to 30 minutes, or until fruit is soft. stirring occasionally.  Turn off heat, and cool.  Transfer to food processor, and pulse until smooth.  Chill 3 hours before serving.
Reference: Fresh Perspectives, September 2012