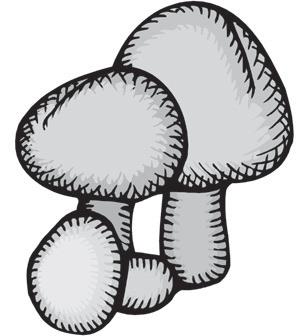 Women who ate mushrooms regularly were less likely to have breast cancer, according to a new study. Researchers recruited 362 women with breast cancer, aged 30 to 65, and the same number of healthy women matched for age and stage of menopause. Women who ate mushrooms regularly were about 50% less likely to have breast cancer, after adjusting for education, family history, exercise, number of children, and other factors. When researchers analyzed postmenopausal women only, regular mushroom eaters were 84% less likely to have breast cancer. Mushrooms did not affect breast cancer risk in premenopausal women. Scientists believe that mushrooms contain phytochemicals, known as aromatase inhibitors (AIs), which block the effects of estrogen on breast cancer cells, and that the active chemical in AIs is conjugated linoleic acid, or CLA.
Reference: International Journal of Cancer: October, 2007.
Ingredients
1 c onion, chopped
1 medium carrot, chopped
1 Portobello mushroom cap, sliced
1 tbsp olive oil
2 c rice milk, plain
2 tbsp barley flour
1 c barley, cooked
1 4-oz can mushrooms, including liquid
1/4 tsp garlic powder
1/4 tsp salt
A pinch each dried marjoram, sage, thyme, and dill weed
Directions
In a sauté pan, sauté carrot and onion in olive oil until carrots soften, add Portobello, cover and set aside. Place rice milk and barley flour into a blender. Blend on high speed for a few seconds. Add barley and blend on high for about 10 seconds, or until barley is chopped coarse. Add canned mushrooms with liquid, blending just enough to coarse-chop. Transfer mixture to medium saucepan and add remaining ingredients, and sauteed vegetables. Cook over medium heat—stirring often—for about 5 minutes, or until hot and somewhat thickened.
Recipe courtesy of Natural Insights (April 2008)