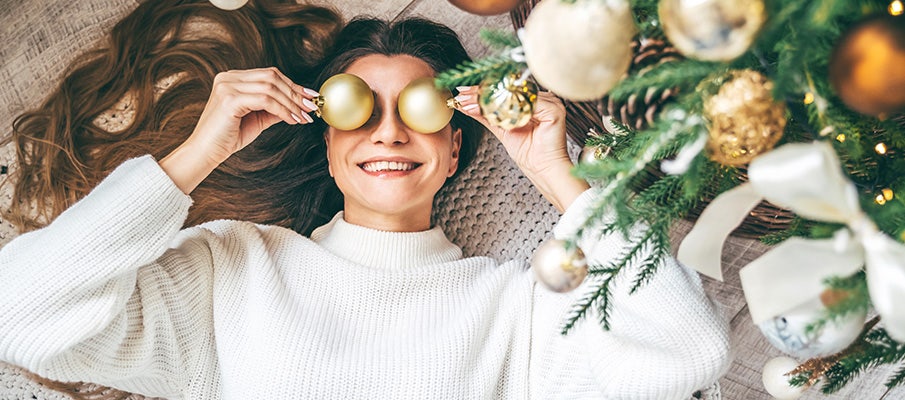 by Tracey Pollack
While the holidays are supposed to be the most wonderful time of the year, they can sometimes also feel stressful. The season presents a list of daunting demands, from shopping, cooking and cleaning to wrapping, greeting and gathering. With so much to do and so little time, just surviving the seasonal pressure can truly seem like a holiday miracle! This year, start a new tradition of avoiding the stress of the season. Try these little holiday stress tips to have some peace and joy through the holidays.
Get in the Spirit of Being Realistic
Picture-perfect holidays only happen in the movies. Rather than giving your all to doing it all, it's perfectly acceptable if the dinner isn't extravagant, the house is a little cluttered and you skip a party or two. Lower your expectations and be realistic about what you can do. Stop obsessing over the small stuff and start enjoying the special people in your life. Once you're realistic about the holidays, you will discover what really matters.
Give Yourself a Helping Hand
Spending too much time in the kitchen can leave too little time with your loved ones. Instead of whipping up batches of goodies, simply exchange the baking for buying from a local bakery. And rather than cooking up fancy meals, invite your guests to help. Focus on making the big dishes, then make a list—and check it twice!—of sides and extras your guests can bring. You will find that doing less helps you enjoy the season more. 
Remember to Stick to a Budget
While it may be known as the season of giving, going all out on spending in December can leave you all out of money in January, when those holiday bills arrive. Face it, trying to buy happiness with a large pile of gifts will only end up making you miserable. This year, save yourself from the bills and the burden by setting and sticking to a holiday budget long before you hit the stores. Resist the urge to get pricey presents and preparations by looking for affordable and meaningful alternatives, such as shopping the seasonal sales, making heartfelt homemade gifts or giving donations on someone's behalf to a charitable organization.  
Try this: DIY Mason Jar Cookie Gifts
Discover the Joy of Planning Ahead
If last-minute shopping and scrambling ring a bell, try planning ahead this year. Set aside specific days for each of your errands and activities. Shop online or hit stores on the weekdays to avoid hitting the weekend crowds. And get all of your decorating done before the season even starts. Getting a head-start on the season lets you avoid the hassles and hustle. Plus, planning ahead ensures that nothing gets left behind.
Treat Yourself Nicely
So many of us spend the season taking care of everyone else that we forget to take time for ourselves. This year, remember to give yourself the attention that you deserve by devoting some private time to the things that you enjoy. Take a walk in the cool, crisp air. Listen to soothing music. Book a much-needed massage. Snuggle up with a good book or simply get out and play in the snow. Taking the time to take care of yourself refreshes your mind and your holiday spirit.
Try these five helpful hints to avoid the stress of the season and make your holidays happier.