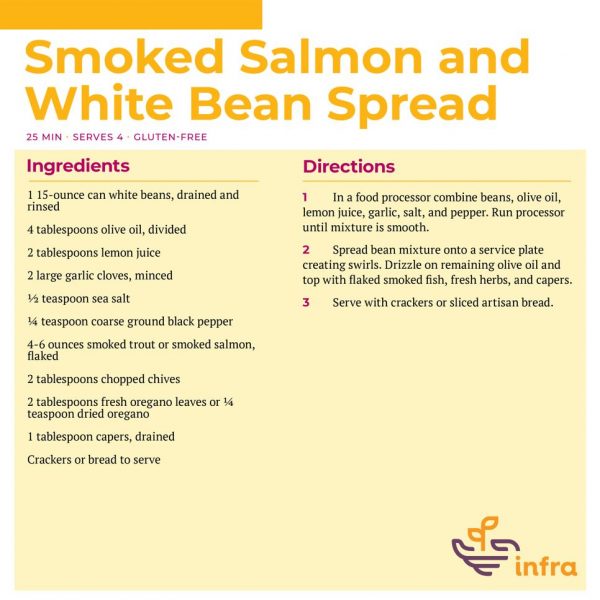 Smoked Fish and Why You Should Be Eating It
With a surge in 'fancy' canned seafood that is a typical staple in many parts of Europe and the pandemic buying patterns that shifted to pantry stocking and canned items, it's time to reconsider your relationship to canned fish and move beyond tuna salad.
Try this smoked salmon and white bean spread the next time you're looking to break from your regular rotation of party dips or no-cook seafood recipes. Bright herbs and capers, creamy white beans, and smoked fish are perfectly balanced and an unexpected combination. The recipe is gluten-free, so if you're looking to keep the meal that way, you can use seed crackers, veggies, corn chips, or gluten-free bread and crackers. It's still high time for grilling, so toss some bread on the grill. Somehow grilled bread is instantly elevated.
We call for smoked salmon here, as it's a highly approachable and familiar ingredient. Feel free to experiment: trout would be another classic to substitute or go wild with smoked mackerel or smoked mussels. Flaking smoked fish on top of this spread is a great way to enjoy the savory richness of seafood without needing to purchase a large quantity to satisfy the crowd. If you're looking to cut down, either on your costs or your animal protein consumption, consider this a great blueprint!
The final thing we'll say about this recipe is that it just might be your next pantry staple dish. Canned seafood and canned or dried beans are items you can keep stocked in your pantry. The addition of a few fresh herbs, picked up at the store or snipped from a windowsill herb garden, means you can whip it up on the fly year-round and for any occasion.