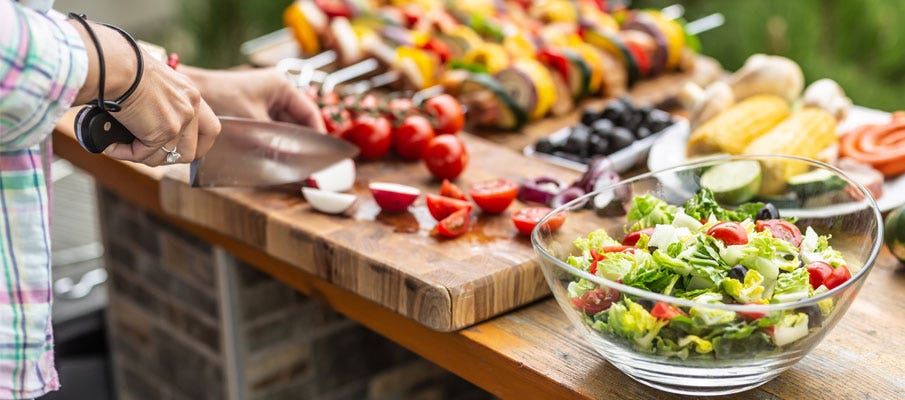 Good, old-fashioned cookouts are usually anything but good for you. Platters full of greasy meats, mayo-laden salads, saucy sides, syrupy cocktails, and mile-high pies tempt you at every turn. When you're having good times with good friends, it's easy to mindlessly munch your way through heavy foods and sugary drinks that leave you feeling less than your best. But you don't have to miss out on the cookout or go hungry to stay healthy. Whether you're throwing or going to a cookout, we've pooled together some savvy swaps and refreshing recipes for a finger-lickin' feast that will keep everyone happy and healthy.
Lean on Healthy Proteins
While barbecues and burgers go hand in hand, think outside the bun by swapping greasy, beefy burgers for leaner proteins your guests will flip for! Fill your grill with grass-fed sirloin steaks, pasture-raised chicken breasts, pork tenderloin, fresh fish, skewers of seafood, or thick-cut cauliflower steaks. If you feel there's nothing better than a burger, make your burger better by using lean beef, white-meat turkey, chicken breast, bison, salmon, black beans, or quinoa. And when you serve these hearty yet healthy Mushroom Bean Burgers, you won't even miss the meat! 
Dress for Success
Just say no to mayo in your salads and sides! Instead of drowning your potatoes, pasta, slaws, and more in this calorie-packed condiment, slim down your dressing by swapping out mayo for a zesty vinaigrette, protein-packed Greek yogurt, or a dollop of fresh pesto. Try packing your next potato salad with vitamins, fiber, flavor and the healthy fat of Raw Extra Virgin Coconut Oil by tossing together our Sweet Potato Salad. 
Invite Fresh Veggies to the Party
Vegetables have a place at every party. They add a burst of freshness, fiber, vitamins, minerals, and antioxidants to any meal, especially a cookout where they can bulk up sides and salads or make up a meatless meal. Grilling brings out the smoky and savory side of veggies like cauliflower, mushrooms, potatoes, tomatoes, and corn. And a platter of fresh-cut carrots sticks, pepper strips, and broccoli spears offers the crunch you crave from potato chips with none of the grease or guilt. Serve these crispy crudité with our Vegan Spinach Dip made with Garden of Life Raw Organic Protein Unflavored for a crowd-pleasing starter free of dairy but full of flavor. 
Swap the Brats
Hold the hot dogs! From fatty franks to greasy links, these wursts aren't the best for your waistline or your health. Consider swapping out regular sausages for lighter links stuffed with white-meat chicken, lean turkey, or plant-based protein from peas, beans, or brown rice. They may be lower in fat and calories, but they offer just as much flavor and fun on a bun. 
Be Creative with Condiments
If your burger or baked potato needs a little something extra, ketchup or barbeque sauce may be the first thing you grab, but they're the last things you need if you're trying to stay healthy. Hidden inside many of these tasty toppers is a heaping helping of sugar and sodium that can quickly derail your diet. Either use small amounts of these traditional toppers or get crafty with your condiments. Spice up your meals with zesty salsa, an herby pesto, mashed avocado, or a slather of hummus. Our Beet Hummus blends the natural sweetness of beets with the beauty of Garden of Life Collagen Peptides to bring a burst of brightness to any burger. 
Rethink Your Drink
With the weather getting warmer, you're likely to drink more than usual to stay cool in the summer heat. Chances are, the only ways to stay hydrated will be calorie-laden cocktails or syrupy-sweet soft drinks. But you can raise the bar on your beverages by setting out fresh water, unsweetened iced tea or sparkling water infused with a squeeze of lemon or lime. Or mix up our Super Beauty Collagen Punch Mocktail, which blends the goodness of our Grass Fed Collagen Super Beauty Blueberry Acai Powder into a fresh and fruity mocktail that works wonders for your skin, your nails and your thirst!†
Do Dessert Right
You may be tempted to take a slice of pie or a spoonful of creamy pudding to end your meal on a sweet note. But to satisfy your sweet tooth without added sugars, fresh fruit takes the cake! You can always layer berries and melons into a colorful fruit salad that looks as good as it tastes. But why not put the grill to good use by tossing on slices of peaches and watermelon with a squirt of honey to turn up the heat on dessert. For a cool spin on a sweet treat, our Red, White & Blue Popsicles, which feature a dash of Dr. Formulated Whole Food Magnesium Orange Powder, will help your guests keep calm and party on!†
 With these simple swaps for a better-for-you barbecue, no one will notice they're eating healthier, but everyone will come back for seconds!
Shared from https://www.gardenoflife.com/blog/healthy-cookout-swaps-for-a-better-for-you-bbq