20 min prep 60 min cook, 12 servings vegetarian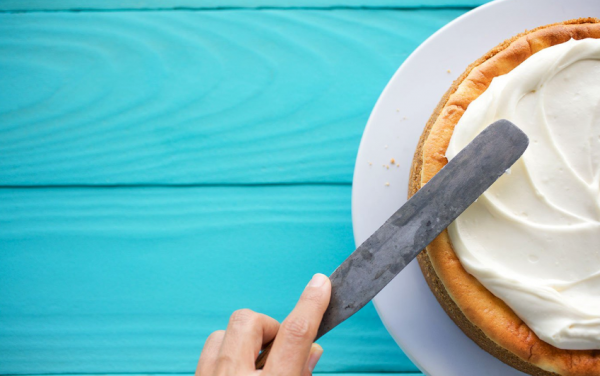 Crust
• 2 1⁄2 cups Cadia graham cracker crumbs (about 40 squares, crushed)
• 1⁄3 cup sugar
• 1⁄2 cup Organic Valley butter, melted
Filling
• 24 oz Organic Valley cream cheese (3 packages), softened
• 1 1⁄2 cups sugar
• 1 teaspoon vanilla extract
• 4 Organic Valley large brown eggs, separated
Topping
• 1⁄2 cup Organic Valley sour cream
• 1⁄2 teaspoon vanilla extract topping
• 2 Tablespoons sugar
• 1⁄2 cup Organic Valley heavy
whipping cream, whipped
Instructions
1. Combine the graham cracker crumbs and sugar in a small bowl. Stir in butter, then press the mixture into bottom of a greased 9" springform pan and up 2" high on the sides. Bake at 350° F for 5 minutes, then remove crust from oven and reduce heat to 325°.
2. In a large bowl, beat the cream cheese, sugar, and vanilla extract until smooth. Add egg yolks and beat on low until combined.
3. In a small bowl, beat egg whites until soft peaks form. Fold into the cream cheese mixture, then pour over crust.
4. Bake for 1 hour or until the center is almost set. Cool on a wire rack for 10 minutes. Carefully run a knife around the edge of the pan to loosen, then cool for another hour. Refrigerate until completely cool. Combine the sour cream, sugar, and vanilla. Fold in whipped cream and spread over cheesecake. Refrigerate overnight.
Top your cheesecake with your favorite fruit or drizzle with chocolate sauce to make it your family's new favorite dessert!