Walnuts contain omega-3 fatty acids and polyphenols, both of which help counteract the oxidative stress and inflammation that can cause cognitive decline. In this study, 636 men and women, aged 63 to 79, living independently in California or in Spain, ate one to two ounces of walnuts per day, or did not eat walnuts.
After two years, while there were no significant benefits in healthy adults, those who had smoked more, and who had lower initial neuropsychological— how brain health affects cognition—test scores, saw improvements in brain structure and function as measured through magnetic resonance imaging (MRI) brain scans, after eating walnuts.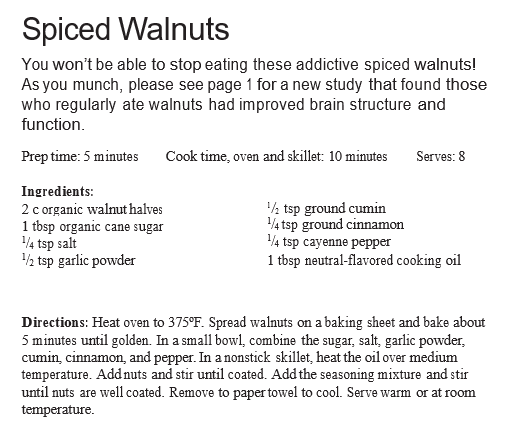 We're dedicated to discovering the benefits of good nutrition and healthy lifestyle, and hope this issue of Natural Insights for Well Being® informs and inspires you to take an active role in
your health. Please ask us to assist you with any natural products you would like to know more about.
These articles provide nutritional information only and do not replace professional medical advice.
Natural Insights for Well Being October 2020 Reference: American Journal of Clinical Nutrition; 2020, Vol. 111, No. 3, 590-600