Bragg's Organic Apple Cider Vinegar packs a multitude of health benefits and life hacks for the entire family ranging from boosting your immune system to softening and detangling those luscious locks.  Bragg's Organic Raw Apple Cider Vinegar is unfiltered, unheated, unpasteurized and 5% acidity. It contains the amazing Mother of Vinegar which occurs naturally as strand-like enzymes of connected protein molecules. Bragg's Organic Apple Cider Vinegar is made with healthy organically grown apples and is Kosher certified.  Check out some of our favorite uses for Bragg's Organic Apple Cider Vinegar and be sure to try some of our recipes!
Top 10 uses for Bragg's Organic Apple Cider Vinegar (ACV):
Add 2 tablespoons to a glass of water to boost your immune system and energy. Add a teaspoon of local raw honey to sooth a scratchy throat.
Household Cleaner! Add equal parts water and ACV to a spray bottle and use to clean the hard surfaces of your home.  Add a few drops of Lemon or Orange essential oil to boost the cleaning power.
Use a few drops on a cotton ball as a natural skin toner to keep your skin looking healthy and fresh.
Detox bath! Add 1 cup ACV, 2 cups Epsom salts and a few drops of Lemon essential oil to your hot bath and soak for at least 20 minutes.  Rinse in cool water after your bath to cleanse and close pores.
Replace white vinegar with apple cider vinegar in all of your favorite recipes or sprinkle over a salad with a bit of olive oil, salt and pepper for a healthy dressing.
Add a splash to your laundry to fight tough odors and naturally soften your clothes.
Natural mouthwash! Add ½ tablespoon ACV to 8oz of water.  Swish a small amount in your mouth for a few moments and spit. Repeat as needed for fresh breath.
Fight tangles and dry scalp with ACV! Using 2 tablespoons per 8 oz of water rinse hair after shampooing.  You can also use the same dilution in a spray bottle as a detangler.
Rinse your dog with 2 tablespoons per 8oz of water after bathing to detour fleas and add a splash to their water bowl to support healthy immune functions.
Apply directly to sore muscles for quick relief.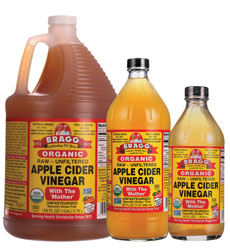 Pick up a bottle of Bragg's Organic Apple Cider Vinegar and everything else you need for these recipes at your favorite Sunrise Health Foods location!